Best Army Coaching Centre in Tamil Nadu
Muppadai Training Academy is a No.1 Defence Training Academy in Vellore for NDA, CDS at Officer Cadre Level and also Soldier Entry Level Coaching. Muppadai Academy is one of the Best Army NDA CDSE Exams Coaching Centre Vellore. Students from all over the Tamil Nadu come here for coaching and they have given a good word for this institution. Undoubtedly, Muppadai Training Academy has proven to be one of the Best Army Training Academy in Tamilnadu
Qualification – 10

th

, 12

th

and Degree Standard.

Classes with physical Training and Gym Facilities.
Physical Training Daily:
Morning @ 5.30 AM  To 8.00 AM
Evening @ 4.30 PM  To 6.30 PM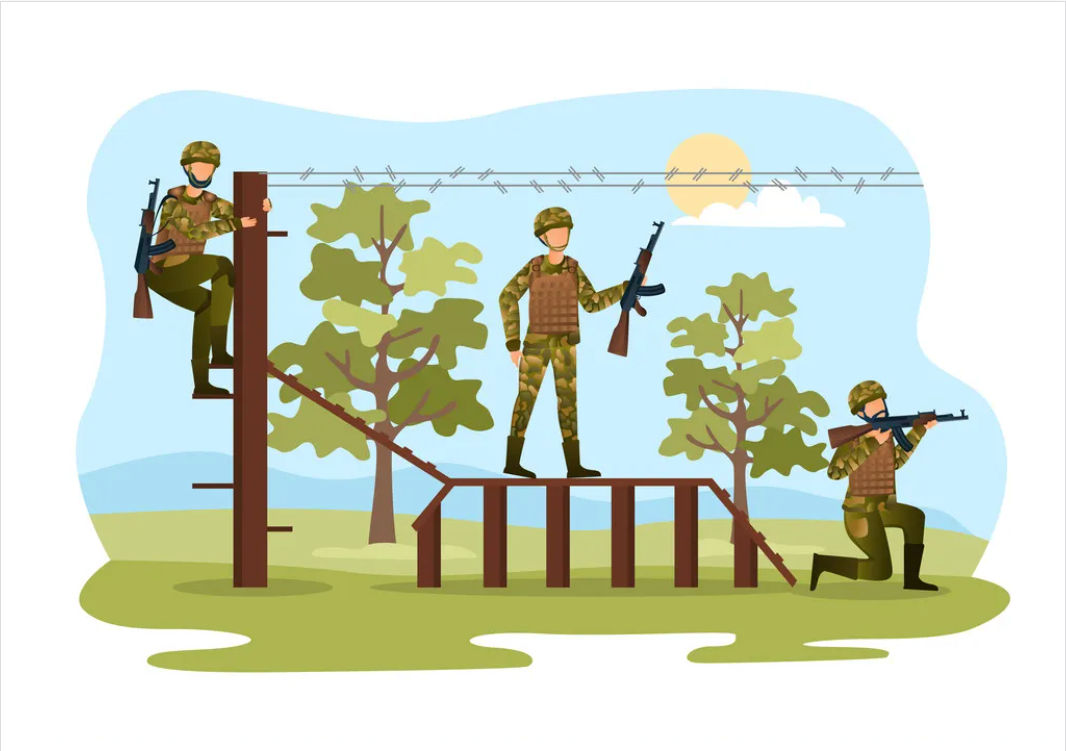 Best Indian Army coaching centre in Tamil Nadu
Indian Army conducts Soldier General Duty (Army-GD) recruitment through open rallies. Open rallies are organized by the Zonal/Army Recruiting Office (ZRO/ARO/IRO) and UHQ quota. AROs are located in various places that cover few districts in its jurisdictions. Generally, every ARO has 4-6 Districts under its jurisdiction. ARO organizes open rally to recruit the volunteer male candidates as soldier GD. Muppadai Academy is an All-in-One Military army coaching center in Vellore and All Over Tamilnadu Districts.
Common Entrance Examination
| Category | Subject | Questions |
| --- | --- | --- |
| Soldier Technical | Physics, Chemistry, G.K, Aptitude | 50 |
| Soldier Nursing Assistant | Biology, Physics, Chemistry, G.K, Aptitude | 50 |
| Soldier General Duty | Biology, Physics, Chemistry, G.K, Aptitude, Reasoning. | 50 |
| Soldier Clerk | G.k, Aptitude, English, Reasoning. | 50 |
| Soldier Tradesman | G.k, Aptitude, Reasoning | 50 |
| Havildar | G.k, Aptitude, English, Reasoning | 50 |
Minimum

Maximum

1600 Meters race

5 min 30 seconds

5 min 45 seconds

Ditch Jump

9 feet

Pull ups

6

6
Army Education Qualification & Eligibility:-
Category

Education

Height

Weight

Chest

Age

Agniveer (General Duty) (All Arms)

Class 10th /Matric with 45% marks in aggregate and 33% in each subject. For boards following grading system of D grade (33% - 40%) in individual subjects or equivalent of grade which contains 33% and overall aggregate in C2 grade or equivalent corresponding to 45% in aggregate. Note : Candidates with valid Light Motor Vehicle (LMV) Driving License will be given preference for Driver requirements.

166 cm

50

77 – 82

17 ½ – 21 Yrs

Agniveer (Tech) (All Arms)

10+2/Intermediate Exam Pass in Science with Physics, Chemistry, Maths and English with min 50% marks in aggregate and 40% in each subject. OR 10+2 /Intermediate Exam Pass in Science with Physics, Chemistry, Maths and English from any recognized State Education Board or Central Education Board to include NIOS and ITI course of minimum one year in required field with NSQF level 4 or above. OR 10th /Matric Pass with 50% in aggregate and minimum 40% in English, Maths and Science with 02 Years of Technical Training from ITI or 02/03 years Diploma in streams given in notification.

165cm

50

77 – 82

17 ½ – 23 Yrs

Agniveer Clerk / Store Keeper Technical (All Arms)

10+2 / Intermediate Exam Pass in any stream (Arts, Commerce, Science) with 60% marks in aggregate and minimum 50% in each subject. Securing 50% in English and Maths/Accounts /Book Keeping in Class XII is mandatory.

162 cm

50

77 – 82

17 ½ – 23 Yrs

Agniveer Tradesmen (All Arms) 10th pass

(i) Class 10th simple pass. (ii) No stipulation in aggregate percentage, but should have scored 33% in each subject.

166 cm

48

76 – 81

17 ½ – 23 Yrs

Agniveer Tradesmen (All Arms) 8th pass

(i) Class 8th simple pass. (ii) No stipulation in aggregate percentage, but should have scored 33% in each subject.

166 cm

48

76 – 81

17 ½ – 23 Yrs

Agniveer (General Duty) Women in Corps of Military Police

Class 10th /Matric with 45% marks in aggregate and 33% in each subject. For boards following grading system of D grade (33% - 40%) in individual subjects or equivalent of grade which contains 33% and overall aggregate in C2 grade or equivalent corresponding to 45% in aggregate. Note : Candidates with valid Light Motor Vehicle (LMV) Driving License will be given preference for Driver requirements.

166 cm

48

76 - 81

17 ½ – 23 Yrs

Soldier Nursing Assistant (Army Medical Corps)

10+2 / Intermediate Exam pass in Science with Physics, Chemistry, Biology and English with Minimum 50% marks in aggregate and minimum 40% in each subject. OR In case the candidate has a BSc Degree with (Botany / Zoology / Bio-Science) and English, the stipulation of percentage in Class-XII is waived off. However, the candidate should have studied all the four specified subjects in Class XII also

165 cm

50

77 – 82

17 ½ – 23 Yrs

Havildar Education (Army Education Corps)

Group X – MA / MSc / MCA or BA / BSc / BCA / BSc (IT) with B Ed Group Y – BSc/BA/BCA/B Sc (IT) (w/o B Ed.)

162 cm

50

77 – 82

20-25 Yrs